Logistics and Transportation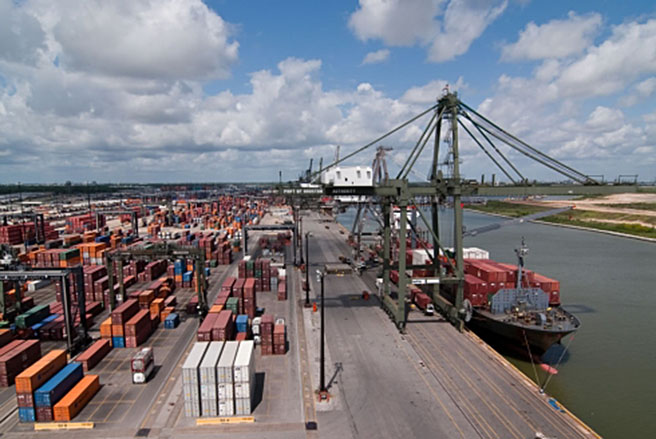 Ready access to all modes of transportation is a major factor
attracting industry and business to the Baytown/Chambers County region.
Airports
Houston is the international air gateway to the south central United States and all of Latin America. With the addition of international air service at Hobby Airport in 2015, Houston became the only city in Texas that is home to two airports offering international service and one of only eight such cities nationwide. Scheduled passenger airplanes fly to 124 domestic and 74 international destinations from Houston airports; 32 airlines provide scheduled passenger service for the Houston Airport System (HAS). Please visit http://www.fly2houston.com for more information regarding the major commercial and general aviation airports within our area.
George Bush Intercontinental Airport (IAH) is the largest airport in Houston and offers both air passenger and air cargo service. The airport is served by 29 passenger airlines to hundreds of destinations around the world. The runways range from 6,000 to 12,000 feet in length.
William P. Hobby Airport (HOU) offers air passenger and some air cargo service. The airport is presently served by 5 passenger airlines reaching over 55 destinations around the world. The runways range from 4,500 to 7,600 feet in length.
Ellington Airport (EFD) supports the operations of the United States military, NASA, and a variety of general aviation tenants. The airport is home to the annual Wings Over Houston Airshow and is also the place where many of the astronauts from the world-renowned Johnson Space Center receive their ongoing space training. More recently, Ellington Airport became home to the Houston Spaceport, the nation's 10th commercial spaceport.
Additional Airports/Airparks Servicing the Area
Marine Transportation
Located minutes away from Baytown, the Port of Houston is a 25-mile-long complex of 150-plus private and public industrial terminals along the 52-mile-long Houston Ship Channel. The port is consistently ranked 1st in the United States in foreign waterborne tonnage; 1st in U.S. imports; 1st in U.S. export tonnage and 2nd in the U.S. in total tonnage. It is also the nation's leading breakbulk port, handling 41 percent of project cargo at Gulf Coast ports.
Barbours Cut Container Terminal has grown to be one of the premier container handling facilities in the U.S. Gulf of Mexico. It has six modern container berths which provide 6,000 feet of continuous quay and nine state-of-the-art wharf cranes that insure safe and reliable handling of containers. The facility also includes a roll-on/roll-off platform, a LASH dock, 230 acres of paved marshaling area, electronic data interchange capabilities and a computerized inventory control system that tracks the status and location of individual containers.
Bayport Terminal is the most modern and environmentally sensitive container terminal on the U.S. Gulf. When fully developed, it will have a total of seven container berths with the capacity to handle 2.3 million TEUs on a complex which includes 376 acres of container yard and a 123-acre intermodal facility.
The "M-146 Marine Highway Connector," which is sponsored by the Chambers County Improvement District No. 1 and the Chambers Liberty Counties Navigation District, spans the 25-mile waterway between Cedar Bayou and the Houston Ship Channel, connecting to the Port of Houston on the M-10 Marine Highway Corridor. A container-on-barge service currently operating on the M-146 has already reduced regional roadway traffic by approximately 2,000 containers per month. A marine highway is a designated route for transporting cargo on water, reducing pollution and congestion on roads.
Ground Transportation
There are 587 interstate motor freight carriers servicing the area. Baytown is within 30 miles of several major highways: Interstate 10, Interstate 45 and US Highway 59. Interstate 10, which passes through Baytown and Chambers County, runs from Los Angeles, California on the West Coast to Jacksonville, Florida on the East Coast. In addition, there is an extensive network of state and local highways. The Houston Metropolitan Statistical Area contains 3,877 lane miles of freeways and expressways. Houston's highway system utilizes 128.6 miles of barrier-separated high occupancy vehicle (HOV) lanes and 28 park-and-ride lots with access to Metro's direct bus service.
The Grand Parkway (SH-99) will improve the transportation network and level of service in the Houston–Sugar Land–Baytown metropolitan area. It will relieve traffic and congestion on the surrounding major roadways including, but not limited to, I-10, I-45, US 59 and US 290. Upon completion of all segments, the Grand Parkway Project will be the largest loop serving the region and will run right through the Baytown/West Chambers County region. **Maybe include map of 99?
Rail Service
Union Pacific Railroad (http://www.up.com/index.htm) serves all major cities and Gulf Coast ports of Texas, as well as international gateways at El Paso, Eagle Pass, Laredo and Brownsville. Information on Union Pacific's investment across Texas can be found here: https://www.up.com/cs/groups/public/@uprr/@corprel/documents/up_pdf_nativedocs/pdf_texas_usguide.pdf
BNSF Railway (http://bnsf.com) is one of North America's leading freight transportation companies, with a rail network of 32,500 route miles in 28 states and three Canadian provinces. BNSF is one of the top transporters of the products and materials that help feed, clothe, supply and power communities throughout America and the world. BNSF moves those goods more safely and efficiently, on significantly less fuel, with fewer emissions than the all-highway alternative.