Global petrochemicals growth shifts from Middle East to Gulf Coast
April 12, 2018
For the first decade of this century, U.S. petrochemical producers, such as LyondellBasell of Houston and Chevron Phillips Chemical of The Woodlands, flocked to the Middle East, spending years developing partnerships and building massive facilities to tap cheap natural gas feedstocks to make plastics and other materials.
But now, the U.S. Gulf Coast has become the locus of global petrochemical growth, outpacing the Middle East in a shift that's only expected to accelerate as North American shale producers siphon more natural gas from vast reserves in West Texas and elsewhere. Even Saudi Arabian companies, including the government-owned Saudi Basic Industries Corp. and Saudi Aramco, are making the shift, with plans to invest billions of dollars to expand chemical operations here and develop new partnerships with Houston and other U.S. firms.
The migration of petrochemicals manufacturing is more evidence that the Gulf Coast is becoming an energy hub rivaling the Middle East, which for a half century has played an outsized role in the global economy and geopolitics. It shows that the so-called shale revolution pioneered by Houston and Texas producers is continuing to reshape global markets, transform trading relations and lift the region's economy, which so far has attracted more than $60 billion in petrochemical investments - an influx of capital, according to the Greater Houston Partnership, that will support tens of thousands of jobs for years to come.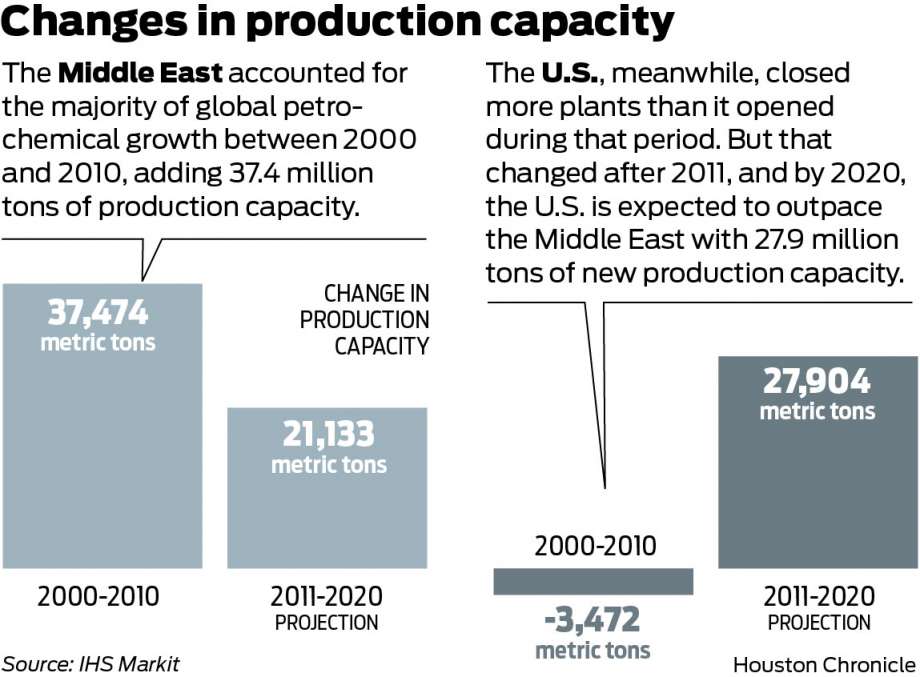 The shift from the Middle East to the Gulf Coast is driven by two simple facts: Supplies of natural gas liquids such as ethane, a feedstock for petrochemicals and plastics, are dwindling to the point of shortage in Saudi Arabia and elsewhere, but growing rapidly here as drilling in the Permian Basin in West Texas and other shale plays floods the market with cheap, abundant raw materials for chemicals. U.S .ethane production is projected to increase nearly 60 percent to 2 million barrels a day by 2021, up from 1.26 million barrels a day in 2016, according to the research firm IHS Markit.
The Middle East accounted for the majority of global petrochemical growth between 2000 and 2010, according to IHS Markit, adding 37.4 million tons of production capacity for natural gas-derived materials including ethylene, propylene and methanol, three base chemicals used to make a wide range of plastics, building materials and consumer goods. During that same period, U.S. natural gas prices were soaring, leading petrochemical makers to close more plants here than they opened and instead take their large-scale projects to Saudi Arabia and Qatar.
"That's what drove the world of chemicals during that period," said David Witte, the head of IHS Markit's energy and chemicals division. "And then shale comes along."
Dan Coombs, LyondellBasell's executive vice president of global manufacturing and projects, years ago worked for Chevron Phillips Chemical, a joint venture of the oil company Chevron and Houston refiner Phillips 66. He moved to Qatar in 2008 to help the company build a joint-venture petrochemicals complex there, one of the last major projects it built in that region.
"When I left here to go to the Middle East, if you wanted to do a big project, that was where to do it," he said. "When I came back at the end of the 2011, it was all about shale oil and gas production and the technology around it."
The new gas supply had an immediate and measurable effect on the global petrochemicals industry. Between 2011 and 2017, the U.S. added roughly 14 million tons of petrochemicals production capacity, according to IHS Markit, just under the amount built in the Middle East. But this year marked a turning point: Through 2020, the U.S. is expected to add another 14 million tons of production capacity, more than double the amount slated to come online in the Middle East, where the lack of new ethane supplies is forcing producers there to switch to pricier feedstocks derived from crude oil.
"The region has a hard time attracting investors like it did 10-plus years ago," said Alex Lidback, head of global chemicals, polymers and fibers for research firm Wood Mackenzie. "The feedstock is nowhere near as advantaged as it once was."
That dynamic is pushing some of the Middle East's premier energy companies to expand along the U.S. Gulf Coast with multibillion dollar projects that underscore the industry's faith in the longevity of the shale boom. Coinciding with the recent visit of Saudi Crown Prince Mohammed bin Salman, who is leading a drive to diversify an economy long centered on oil production, Saudi Aramco announced that its Houston-based refining subsidiary, Motiva Enterprises, will make its first major foray into petrochemicals through two separate agreements with Illinois-based Honeywell UOP and TechnipFMC, which has headqua
Motiva will examine TechnipFMC's production of mixed-feed ethylene made with multiple feedstocks and Honeywell UOP's production of certain oil-derived base chemicals as it considers building processing and production units at its Port Arthur refining site. The company expects to invest between $8 billion and $10 billion dollars in the projects, pending the evaluations.
Separately, SABIC, the Middle East's largest petrochemicals maker, reaffirmed plans to build a headquarters for its Americas operations in Katy, where it purchased about 70 acres of land in 2015. The expansion, slated for completion within the next four years pending a final investment decision, would boost the company's its Houston-area workforce from 400 to about 1,000 employees.
SABIC has for years homed in on the U.S. Gulf Coast as a place for future growth. The company is a partner with Exxon Mobil Chemical Co. to build the world's largest ethane cracker, which processes ethane into ethylene, as part of a massive $10 billion petrochemical complex near Corpus Christi. Ethylene is the basic component of most plastics.
Lidback, who recently traveled to the Middle East, said other petrochemical companies there are looking at the United States for their next growth phase. The Gulf Coast, he added, is particularly attractive because of its established network of pipelines and production facilities adjacent to major export hubs.
Houston-area producers, meanwhile, are capitalizing on their access to cheap ethane and other natural gas feedstocks by expanding existing plants and building new ones along the Gulf Coast.
LyondellBasell, for example, recently expanded capacity at three of its facilities in La Porte, Corpus Christi and Channelview, increasing its annual ethylene production capacity by 2 billion pounds. And it's now completing a $700 million facility at its La Porte complex expected to open next year with the annual capacity of more than 1 billion pounds of high-density polyethylene, the world's most common plastic.
The company also plans to build world's largest propylene oxide and tertiary butyl alcohol plant at its Channelview complex to produce chemicals for furniture, automobiles, adhesives and other uses. The $2.4 billion project, the company's heftiest investment to date, is a substantial bet on U.S. petrochemicals retaining a competitive edge in the global market.
"As we've seen," said Coombs, the executive vice president, "the supply of shale in the U.S. is a pretty vast resource."
Chevron Phillips Chemical worked for years on four plants in Saudi Arabia and Qatar, ultimately wrapping up its final projects there around 2010. At that point, the company, intrigued by the promise of shale oil and gas discoveries in West and South Texas, decided to build a massive ethane cracker in Baytown at a time when few such investments were in the works.
Nearly a decade in the making, the cracker began operations last month with the capacity to produce an annual 1.5 million tons of ethylene. The cracker will supply the production of polyethylene at the company's Old Ocean facility near Sweeny, where it recently built two new production units with the combined capacity to produce 4.4 billion pounds of plastics a year.
"The No. 1 criteria for an investment of this kind of magnitude is a long term supply of feedstock," said Ron Corn, the company's senior vice president for petrochemicals. "This is where the growth is today."
By Katherine Blunt, chron.com
https://www.houstonchronicle.com/business/article/Global-petrochemicals-growth-shifts-from-Middle-12829083.php#photo-15382057