VIGAVI completes Build-To-Suit at Thompson Ten Business Park
February 11, 2017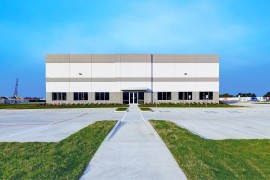 VIGAVI completes Build-To-Suit at Thompson Ten Business Park
BAYTOWN, TX - (February 11, 2017) - VIGAVI, a commercial real estate development and investment firm specializing in industrial real estate, is announcing the completion of Tidal Tank, a 31,200 SF Tilt-wall Manufacturing facility in Baytown, Texas.
The institutional quality tilt wall building is situated on 14 acres, and is strategically located just off the Southwest corner of Thompson Road and I-10 in the Thompson Ten Business Park.
The Challenge
Tidal Tank needed to consolidate and optimize its operations to service the Petrochemical industry. The firm, part of a growth-driven consolidation, Tidal Tank needed a +30,000 SF building on 14 acres of improved land, 10 acres of outside storage. Finding a site that would accommodate their needs for 10 acres of outside storage was difficult. Tidal Tank decided on VIGAVI's Thompson Ten track due to the availability of land and Baytown's supportive nature of their business.
The Solution
VIGAVI was able to permit the building and storage yard component separately. The latter was delivered within two (2) months of permitting and the building within six (6) months. Tidal Tank was able to occupy the storage area to accommodate its most critical and time sensitive needs and the building within a timely manner.
Richard Quarles of JLL represented the developer VIGAVI and Jason Whittington of NAI represented Tidal Tank in the transaction.
Vigavi