H-E-B opens its doors in Baytown once again
December 6, 2017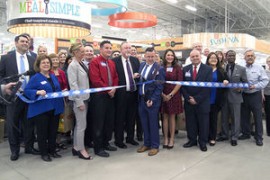 Ever since H-E-B closed its doors nearly six years ago, Baytonians have had to rely on rumors of when the beloved Texas grocery chain would return.
Today is that day.
Because of the prolonged wait, H-E-B rewarded Baytown with a 102,000-square-foot store that sells 16,000 items, has 20 gas pumps, a car wash and 629 parking spots.
The new store, located 6430 Garth Road, will be open 6 a.m. to midnight daily.
To celebrate the highly anticipated opening, elected officials and local leaders gathered inside the squeaky clean, fully stocked store Tuesday to cut the ribbon and take tours.
"It's been a long journey," said Mayor Stephen DonCarlos. "Scott McClelland (H-E-B Houston region president) has always been really emphatic that H-E-B believed Baytown would be a site for more than one H-E-B product; and they have followed through with that promise."
"We're thrilled that this day has come, it's been a long time coming," he added.
During the community preview of the store, H-E-B donated $5,000 to the Culinary Arts division of Stuart Career Technical High School, which prepared meals for guests Tuesday. H-E-B also donated another $5,000 to Stuart as a whole.
As part of H-E-B's presentation of the new store, Terry Williams, regional vice president of H-E-B east Houston region, recalled the H-E-B Pantry on North Main Street that he ran for a number of years.
"I used to walk that store and every time I walked that store I would get stopped at least three times with some customer asking me: 'When are we going to get a big store in Baytown?,'" Williams said. "Well guess what? We're back — bigger, better, fresher, stronger for you. Because (Baytown) didn't give up on us, we're not going to give up on you."
The new store will feature a Texas Backyard department, a 28-foot long seafood department, a sushi department, a bakery, tortilleria and a large wine selection with more than 1,500 varieties.
The Baytown location will also have a Cooking Connections station, which features trained chefs that will demonstrate how to prepare gourmet meals in just a matter of time at home.
With H-E-B now open, officials hope the new site will attract more business. So far, MOD Pizza and Cotton Patch Café have committed to Baytown.
In addition to Baytown, the City of Mont Belvieu is also expecting an 87,000-square-foot H-E-B. Under Mont Belvieu's agreement with H-E-B, the new store will anchor about 300,000 square feet of additional retail space at the intersection of Interstate 10 and Eagle Drive.
Mont Belvieu's H-E-B is expected to open in the spring.
By Christopher James, Baytown Sun