Exxon eyes $1.9 bil expansion — 'Economic growth benefits our entire community'
August 23, 2018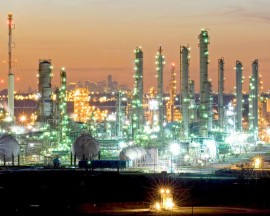 A $1.9 billion expansion could be on the horizon for the ExxonMobil plant here in Baytown.
According to ExxonMobil officials, the petrochemical plant is evaluating a potential expansion of its polymer manufacturing at the Baytown chemical plant.
"If the project proceeds, the expansion would occur within the facility's existing boundaries," said Mike Ashton, ExxonMobil Baytown complex spokesman. "A final investment decision will be made only after our analysis is complete and all required permits have been obtained."
The expansion involves the construction of a polymer unit and a monomer preparation facility. Construction would begin in 2021 and end by 2023. It is expected to create at least 25 permanent jobs at an average of $63,000 annually.
"As our current, broader Baytown expansion project has demonstrated, significant investments like this positively impact the local and regional economy through direct and indirect job creation and spending," Ashton said.
In June, ExxonMobil had a 313-value limitation agreement approved by the Goose Creek CISD board.
"Chapter 313 value limitations remain a valuable tool for economic development," Ashton said. "Economic growth benefits our entire community. It is a credit to the leadership of GCCISD that the community is continuing to seek opportunities that help local businesses to prosper, strengthen its talented workforce, and position the region to compete in the global economy."
In July, ExxonMobil announced operations commenced for its new 1.5 million ton-per-year ethane cracker at the Baytown complex. The new cracker, part of ExxonMobil's Growing the Gulf initiative, provides ethylene feedstock to new performance polyethylene lines at the company's Mont Belvieu plastics plant, which began production in fall 2017. The Mont Belvieu plant is one of the largest polyethylene plants in the world, with a manufacturing capacity of about 1.3 million tons per year.
B.J. Simon, Associate Executive Director of the Baytown West Chambers County Economic Development Foundation said the expansion is a great thing for both ExxonMobil and Baytown.
"It is all part of the investment associated with the so-called second wave of the petrochemical expansions and the project compliments what has already occurred," Simon said. "The ethane cracker in the Baytown complex complimented by the two downstream facilities in Mont Belvieu, this additional expansion is all part of that continued focus on the petrochemical sector. I think it will be something very positive. When they announced that $20 billion investment along the Gulf Coast, everyone felt confident the Baytown complex would compete for those dollars. And it appears they have."
Matt Hollis, Baytown Sun
http://baytownsun.com/news/article_668bdec0-a67e-11e8-8dd6-5fa5daa06c72.html