City: Hyatt Regency to open doors in 18 months
September 23, 2021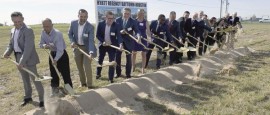 It was a day city officials have long-awaited for, and it could not have gone better.
During a breezy first day of fall, city officials and many local dignitaries gathered to witness dirt begin turned on a project that has gone from dream to reality – the Bayland Island hotel/convention center.
"This is like the greatest day in the history of Baytown," Rick Davis, city manager, said. "This is something that has been a dream. Even before I started my career in city management, people like former Baytown Mayor Pete Alfaro dreamed of a hotel/convention center in Baytown. They knew it would be a game-changer for our community."With golden shovels and hardhats to match, city officials and dignitaries threw dirt in the air, signifying the beginning of the construction of a 208-room Hyatt Regency luxury hotel and convention center.
"When we initiated our community-based Strategic Plan about five years ago, the only facility that was mentioned by name as a community priority was this," Davis said. "And so, this is a great victory for the citizens of Baytown. It is one thing for the citizens to say we want a convention center and hotel, it is quite another thing to bring that to fruition. We all have a role in making this happen."
The idea of constructing a hotel/convention center on the island dates back to at least the 1990s when Alfaro was mayor. He and former Mayor Stephen DonCarlos were credited time and time again for keeping the project moving despite many obstacles.
"When we were at our most downtrodden and lowest point, we talked about resurrecting this idea of a convention center and hotel, Davis said. "We are grateful for their openness to champion to carry the flag for this project. We are taking a quantum step today. Thank you for being here and let the dirt fly."
Alfaro expressed joy at seeing the groundbreaking event finally happen.
"I am very happy that this is something that will really benefit Baytown and the surrounding areas," Alfaro said. "It is something we will all enjoy. I think everyone that worked so hard to make it happen. Yes, it was my original idea to bring it up, but a lot of people helped. And for that, I am really grateful. I wish the best to everybody."
Kimo Bertram, Hyatt Hotels Corp.
vice president for development, said the event was a special milestone for Hyatt, its partners, and Baytown.
Thanking the Garfield Public/Private development team, CitiGroup, the City of Baytown, and the Municipal Development District, Bertram described them as champions for the project.
"The foundation of Hyatt's business is to care for people, so that we can be our best," Bertram said. "It is both the north star and the foundation upon which the company's strategic priorities are built. Our colleagues around the globe are galvanized around the notion that having empathy for each other, our guests, our hotel owners, and our communities is the very heart of our purpose, and it is the engine that drives us every day toward the goal of being the most preferred hospitality brand."
Bertram said the Hyatt Regency of Baytown will be the first full-service hotel in the city and the "finest hotel within the 30-mile-plus radius of the site."
"The hotel is programmed with 208-guest rooms and suites," he said. "It will have nearly 18,000-square feet of meeting space, multiple food and beverage outlets, and leisure amenities. We anticipate catering to the groups, business travelers, and leisure guests that will now have a first-class hotel in the City of Baytown."
Bertram rebuffed the notion that now, in the climate of COVID-19 and a downturn of the economy, is the right time to build the hotel/convention center.
"As I was relaying to my friends and neighbors about coming to a hotel groundbreaking, I was asked why would anyone want to build a new hotel during these trying times?" Bertram said
"The reality is, this is the perfect time to be breaking ground at a new hotel. The travel business (will return) and we anticipate when this hotel opens 18 months from now. The group meeting business will be well on its way to a full recovery. I look forward to coming back to this site to celebrate its grand opening within 18 months."
Ray Garfield, Garfield Public Private chair, said Baytown council never had a negative vote on the project.
"Each time we went forward to have an option to be approved, they came through," he said.
Garfield thanked the city and its staff, including its law firm, Winstead Law.
"Every single week, we had team calls with folks from Hyatt in operations, management, food and beverage, design, and engineering that participated with our architects and contractors," he said.
Baytown Mayor Brandon Capetillo said he had 25-years' worth of things to say.
"We know the need is certainly there. The experts we dealt with in a collaborative effort that showed us that the feasibility, the need, and the market for a first-class, four-star, full-service hotel in Baytown is needed and justified," Capetillo said. "To all council members here and the ones that addressed this issue throughout the years, to stick with the concept and never give up. We've met a lot of challenges in the way, every time we solve one issue, another one would surface. We overcame a lot of adversity to make this happen."
Capetillo said he believes the hotel/convention center will be one of many things that Baytown can showcase to the world.
"This will be a catalyst not just for Baytown, but for Bayland Island and what I consider the Baytown region," he said. "This will be a destination for people outside of Baytown will be able to hold their events. The one thing I am proud to say is now we can hold our Baytown events in Baytown. This is a team effort. There is no one individual that carried it alone. I cannot wait for the next 18 months when we are able to open the doors for a hotel/convention center here in Baytown."
Davis said that once the ceremony was over, DPR Construction would start bringing in trucks to begin work on the hotel/convention center.
By Matt Hollis, Baytown Sun
https://baytownsun.com/news/article_8a8bb4b2-1c14-11ec-be44-7762e6a46f8c.html#tncms-source=block-behavioral