Wide spread: How new developments push the limits of Houston's suburban sprawl
July 12, 2018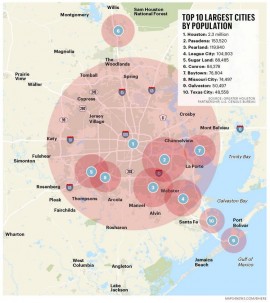 Last year, more people left Harris County than moved in, while the opposite happened in nearby counties such as Fort Bend and Montgomery, data from the U.S. Census Bureau showed for the year ending July 1, 2017.
The Harris County exodus could be the timely result of the oil downturn and its impact on the job market, as well as the standard cycle of people choosing to leave the city and head to the suburbs, said Lloyd Potter, the state demographer and director at the Institute for Demographic and Socioeconomic Research at the University of Texas at San Antonio.
Houston's suburban line-up of Sugar Land, Pearland, The Woodlands or Katy have long been some of the most popular residential destinations. But as those cities get built out and demand for new construction continues to grow, nearby towns get folded into Houston's suburban sprawl, gaining population at a rapid pace.
From crop fields to master-planned community
Fulshear saw its population swell 759 percent between July 1, 2010, and July 1, 2017, according to the Greater Houston Partnership via U.S. Census data.
Janice Ratliff, a real estate agent with Houston-based Bernstein Realty, watched the growth firsthand, selling homes in the area for more than 20 years. In 1990, she sold her first home in the golf course community Weston Lakes.
"That was before any of the development took place," Ratliff said. "There were a few people that were buying and commuting, but not many." Instead, many of the buyers she saw chose the area as a weekend or second home.
Between 2010 and 2017, the city's population grew from 1,172 residents 10,044, according to U.S. Census data. The housing research firm Metrostudy found the number of households went from 1,808 in 2010 to 5,202 in 2017.
Cross Creek Ranch, developed by Houston-based Johnson Development Corp., had the most new home starts in Fulshear, with 443 starts between the fourth quarter of 2016 and the first quarter of 2018. Prices range between $195,000 and $1.2 million, with lot sizes ranging between 28 feet and 90 feet, Metrostudy data shows. Currently, Metrostudy estimates 3,839 households in Cross Creek Ranch, including developed lots, future lots to be developed and constructed homes.
Some sections of the development fall within the boundaries for the Katy Independent School District (a "draw for relocation buyers," according to Ratliff), while other areas are zoned to Lamar Consolidated Independent School District schools.
Katy ISD broke ground April 30 for a new junior high and high school within Cross Creek Ranch. The $54.92 million Junior High #16 and the $206 million High School #9 are part of Katy ISD's $609.2 million 2017 bond program.
The Lamar Consolidated student population grew by 27 percent between the 2011-12 and 2017-18 school year, from 25,278 to 32,146 students, according to a Houston Business Journal analysis of Texas Education Agency school enrollment reports. Meanwhile, Katy ISD grew by 24 percent, from 62,414 students to 77,522 students.
"A lot of relocation buyers buy based on schools," Ratliff said.
Longer commute times could limit appeal
Down south, Manvel has outpaced its neighbor city Pearland in annual new home deliveries for the past six quarters, according to Metrostudy data. In the first quarter of 2018, Manvel had 387 deliveries while Pearland had 105.
In 2017, Manvel's population of 10,115 was less than a tenth of Pearland's, according to GHP data. However, Manvel ranked as the second fastest-growing city in Houston, growing 93 percent between July 1, 2010, and July 1, 2017.
Buyers seeking new construction will have to head farther south to newer communities, such as Land Tejas Cos.' Sterling Lakes or Rise Communities' Meridiana in Manvel, said Paul Silverman, an agent with Martha Turner Sotheby's International Realty. But, the extra commute time added by moving farther south may take away from what makes Pearland a good option for commuters, Silverman said.
Pearland residents can find themselves in three different school districts. A sliver of the master-planned community Shadow Creek Ranch is zoned to Fort Bend Independent School District, while other areas of Pearland are zoned to Pearland Independent School District or Alvin Independent School District.
"It's confusing to get off (Highway) 288, see signs for Pearland, have a Pearland address and then be in the Alvin school district," Silverman said. "It becomes kind of a battle. Do you want an older home in a higher-performing school district or a newer home?"
Between the 2011-12 and 2017-2018 school year, Alvin ISD's enrollment swelled by 36 percent, according to TEA data while Pearland ISD's enrollment grew by 12.6 percent.
Northern exposure
North of Houston, real estate agent Wendy Welsh described the growth in Montgomery County around Conroe as "nice and steady" for the past five years. Her real estate company Mariner Realty was acquired by Coldwell Banker United Realtors in May.
She said buyers often head north to Conroe because they either want to get away from the congestion of the city, find a place close to the lake or are looking for acreage.
As the sixth-largest city in the Houston area, Conroe saw its population grow 30 percent between 2010 and 2017, according to GHP data. In 2017, 84,378 people called the Montgomery County suburb home.
The Far North area, which covers The Woodlands, Conroe, Shenandoah and Willis, is the fastest-growing market area around Houston, according to Metrostudy. Metrostudy regional director Lawrence Dean said the Far North market area has changed over time, as new homes and subdivisions keep populating farther and farther north.
"Five years ago, we wouldn't go to Willis," Dean said. "Now, we go to Willis."
The subdivision with the most new home starts in Conroe sits close to sections of the Sam Houston National Forest, and offers lot sizes between 116 and 120 feet. The Deer Trail II subdivision had 277 starts between the first quarter of 2016 and the first quarter of 2018 and is priced between $228,000 and $344,000, according to Metrostudy.
In the 2018 Kinder Houston Area Survey, almost half of respondents in Harris County said they'd prefer to live in a smaller home in a more urbanized area, close to shops and workplaces instead of a single-family home with a big yard, where "you would need to drive almost everywhere you want to go," compared to 30 percent of responses from Montgomery County residents.
Welsh also sees buyer interest in The Woodlands Hills, the new 2,000-acre master-planned community owned and operated by Dallas-based The Howard Hughes Corp. 13 miles north of The Woodlands. The community straddles both cities of Conroe and Willis.
"The Woodlands is probably pretty well built-out, so you can't really add many more housing units," Potter said. As companies bring in new corporate headquarters, Potter expects to see growth continue to move farther north along I-45.
How far is too far?
However, Ratliff has seen limits to how far people are willing to go. If a buyer doesn't have a specific need for acreage, a home farther out west beyond Brookshire in towns such as Bellville or Sealy may not be worth the trek.
Sometimes buyers get out there and realize it's a different lifestyle, she said.
Potter cautioned the rapid growth seen in farther-out suburbs often doesn't account for all income levels.
"A lot of new developments aren't geared toward those with lower socioeconomic statuses," Potter said. Newer development tends to be more amenable to those employed, those with professional occupations and degrees, he said, rather than a mix of housing options that cater to more people.
He also doesn't expect to see the same movement out of Harris County seen in 2017. With oil prices on the rise, Potter expects to see positive migration numbers for Harris County's 2018 figures.
"Even though the Houston and Texas economy is much more diverse, it's still very dependent on the petrochemical industry," Potter said. "Fluctuations in the price of oil will have impacts on Houston."
And, the exponential growth seen in suburbs such as Fulshear and Manvel will continue, but to assume the growth will maintain its pace for the next 30 years is "probably not realistic," Potter said.
"Suburban growth will continue," he said. "When we're in the middle of something, we tend to think it'll go on forever."
By Fauzeya Rahman, Houston Business Journal
https://www.bizjournals.com/houston/news/2018/07/12/wide-spread-how-new-developments-push-the-limits.html