Summit focuses on Cedar Bayou
July 25, 2018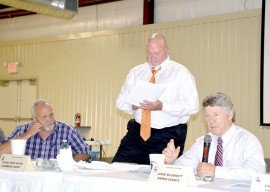 Representatives from multiple agencies gathered for the Cedar Bayou Summit, a meeting held to discuss a way to provide funding and ways to provide long-term flood mitigation in Harris, Chambers and Liberty counties.
Cedar Bayou, which runs through the three counties, is also near major industrial complexes such as ExxonMobil Mont Belvieu Plastics Plant, Chevron Phillips, and Covestro. The bayou has been under scrutiny after millions of dollars of damage caused by Hurricane Harvey as well as other flood events.
"Until now, each county has sought to correct the problem within their own jurisdiction," said Chambers County Judge Jimmy Sylvia. "But this problem has become more complicated than expected. This previous approach has been unsuccessful because the lack of coordination has resulted in a fractured or piecemeal approach. What is needed is a unified approach, guided by an overarching strategy that views the length and breadth of the bayou as a single unit recognizing that what happens at the mount can impact the bayou north of Interstate 10 and vice versa."
Harris County Judge Ed Emmett and Liberty County Judge Jay Knight were also in attendance.
Emmett made mention of the $2.5 billion bond
Harris County is putting to the voters Aug. 25 for critical flood-control projects.
"Let's make no mistake — we live on the Gulf Coast and in a flood-prone area, and this will happen again," Emmett said. "If we don't get together as a team, then people are going to say why didn't we do something? So, we are trying to do that here. When we talk about team members, they are all different. We have to use this in the most effective way possible. Harris County is the big dog, but it doesn't do us any good if the people around us are not being helped."
Highlighted in the discussion was the impact on the local industrial complexes.
Rusty Senac, Chambers County Pct. 4 commissioner, spoke about how the ExxonMobil Mont Belvieu Plastics Plant fared after Harvey.
"The Mont Belvieu Plastics did very well," Senac said. "Their biggest problem was the inability to get their staff in and out of the faculty due to the flooding on Highway 146. They were unable to access the facility for two or three days mostly due to the flooding on 146. But, the impact on equipment for them was minimal."
Senac said the two new crackers were not up and running prior to Harvey.
"They had to repackage a lot of that material they had on the ground," he said. "But fortunately, there wasn't a lot of material on the ground. In a future storm, that could make a difference for them."
Rod Herrick, Covestro vice president and site manager of the Baytown Industrial Park, said it had about 140 or so folks in the plant who were affected by the storm.
"Our impact was small in comparison to some of the other sites in the area," Herrick said. "But, we saw a lot of our sister companies in the area that were severely impacted. What we typically do is, from our headquarters in Pittsburgh, we have a regional crisis center. We had to refine this time around who is ordering the fuel, gas, and all the incidentals. Because last time, we needed things like generators and humidifiers. There is a lot of coordination."
Herrick said he hopes their preparedness will help more families and help the plants take care of their people.
"There was a lot of work that had to be done," he said.
Jennifer Bauer, Chevron Phillips Chemical Company's Cedar Bayou plant tech manager, said when Harvey first came through, they thought it was just another rain event.
"Then we saw the floodwaters rise, it was something we had not seen before," Bauer said. "The impact on our plant in Cedar Bayou plant was about six feet of water. In some places near Cedar Bayou, we experienced about 13 feet of water. Most of our facilities experienced some sort of flooding. Our administration building had 18 inches of water, and had places where we had no access. It got inside equipment, and we were still trying to keep people safe."
Bauer said for 19 days, they worked off of generators.
"Production-wise, our first unit did not come up for 60 days," she said. "There was a huge impact on our polymers production. We had to pull more effort to get this online. Our last unit did not come back up for 158 days. We had 23,000 pieces of equipment we had to go through and make sure was it safe to start up again. And we did not start up again until it was safe to do so."
The plant's new ethane cracker had two to four feet of water and had to be completely checked out before it was started up, according to Bauer.
"The total impact we experienced with repairs and lost production was about $450 million of equipment repair and close to about $600 million in lost profit," she said.
Bauer said Harvey's impact is still being felt.
"This will be a long journey for us, but we have to do something different," Bauer said. "These rain events are not a fluke, and they are coming more frequent and larger in magnitude, and we have to prepare for that."
Houston-Galveston Area Council Executive Director Chuck Wemple emphasized being unified.
"That is one of the most important things when we go for funding — to show this is a multi-jurisdictional project and it can be phased and prioritized based on the funding that becomes available," he said.
"It is very important that we continue some of the studies (such as the Cedar Bayou Flood Study and the Cedar Bayou Depth Study), and potential funding sources while looking forward to the future."
Calvin Mundinger with the Cedar Bayou Navigation District, said the Texas Department of Transportation should be also be involved.
"I think there are a lot of people who feel like the bridge Highway 146 and Cedar Bayou played a significant role in flooding upstream of that bridge," Mundinger said. "I'd like to have TxDOT to become a part of this conversation to see what we can do to change that bridge and allow better flow."
Wemple agreed and said the railroads should also be included.
Jorge Ayala, Economic Development Administration regional director, said it has received $129 million for economic development projects affected by Harvey.
Sylvia said the government can move slowly, but the meeting is a great start.
"I hope we can continue to see improvements and have better communication between all who are involved."
By Matt Hollis, Baytown Sun
http://baytownsun.com/news/article_1302ba12-8fb8-11e8-9d94-1f13f79801fc.html