Plastic Bagging & Packaging to get new facility to serve plastics export market
September 24, 2018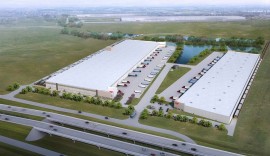 Plastic Bagging & Packaging is getting a new distribution center in Cedar Port Industrial Park on the Grand Parkway in the Baytown area, the developers announced.
Trammell Crow Co. and partner Artis REIT have started building a 519,224-square-foot, rail-served distribution facility for the global provider of plastic bagging materials and packaging services. Completion is targeted in summer 2019.
"Gulf Coast chemical companies are continuing to ramp-up resin production reaching an estimated 54 million metric tons of resin per year by 2020, much of which will be exported outside of North America," Daniela Dell'Oglio, an owner of Plastic Bagging & Packaging, said in an announcement. "Our new, state-of-the-art facility has been designed to serve this rapidly growing market."
The building at 5055 E. Grand Parkway South, Baytown, will be just west of Plastic Bagging & Packaging's existing facility, according to Trammell Crow.
Trammell Crow is developing the project on land purchased by Artis REIT in the spring. Jim Pratt and Mike Taetz with Colliers International represented Plastic Bagging & Packaging in the transaction.
The new building, which represents an expansion of the existing campus, will be owned by an affiliate of Artis REIT.
EE Reed Construction is handling construction of the build-to-suit project. Powers Brown Architecture, Landev, Kimley-Horn, RITD, Binkley & Barfield and Bihner Chen provided design work.
Trans-Global Solutions and Christensen Bridge & Rail are making improvements to the rail infrastructure for the project. The facility is served by the Union Pacific and Burlington Northern Santa Fe railroads.
Cedar Port Industrial Park is near the Grand Parkway at FM 1405 about 30 miles east of Houston.
https://www.houstonchronicle.com/business/real-estate/article/Plastic-Bagging-Packaging-to-get-new-facility-13253691.php