ONEOK to spend more than $1B on Mont Belvieu processing, pipelines
September 27, 2018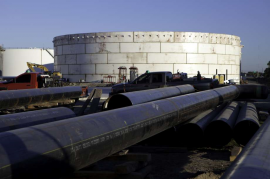 Tulsa-based ONEOK said it will invest more than $1 billion on a new natural gas liquids processing plant in Mont Belvieu and on a major pipeline running from Oklahoma to the Houston region.
ONEOK said it will spend $750 million on a new Mont Belvieu fractionator that separates out the components of NGLs into ethane, butane, propane and more. The company will invest about $250 million more on an expansion of its Arbuckle II NGL pipeline to the Mont Belvieu storage and processing hub.
The pipeline, which is expected to be completed in 2020, will see its capacity increase to 500,000 barrels a day from the initially proposed 400,000 barrels daily.
The fractionator would process 125,000 barrels a day.
ONEOK announced earlier in September that it is spending another roughly $300 million to connect its West Texas NGL pipeline system from the booming Permian Basin to the Arbuckle system.
"Continued production growth across the basins ONEOK serves requires additional NGL fractionation and natural gas processing capacity," said ONEOK Chief Executive Terry Spencer. "Producers are looking for increased connectivity with the Mont Belvieu market center, and ONEOK is competitively positioned to provide it."
By Jordan Blum, chron.com
https://www.chron.com/business/energy/article/ONEOK-to-spend-more-than-1B-on-Mont-Belvie-13262455.php?utm_source=newsletter&utm_medium=email&utm_campaign=Chron_fuelfix