Master-planned community to rise in Baytown
July 11, 2016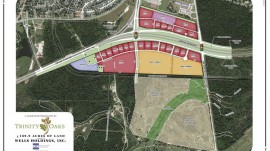 Houston-based Wells Holdings plans to develop a 190-acre master-planned community on the shore of Tabbs Bay in Baytown.
The development, Trinity Oaks, is being touted the first master-planned community at its price point and proximity to Baytown employers. It will be bordered by the Grand Parkway and FM 2354/Tri City Beach Road.
Trinity Oaks will be near the Port of Houston, major energy companies investing billions of dollars to expand petrochemical operations, distribution centers for major retailers and Cedar Port Industrial Park, the world's fifth-largest industrial park.
"We're looking to attract those working in Baytown who have grown tired of the drive to Clear Lake, Kingwood and other parts of town," Matt Wells, president of Wells Holdings, said in a statement. "Our goal is to keep Baytown's workforce in Baytown."
The first phase of Trinity Oaks will feature 384 new homes, with prices starting in the $250,000s, on 50- and 60-foot homesites. Retail, dining, office and multifamily portions will be developed on outlying parcels. Land previously occupied by Baytown's Evergreen Point Golf Course will be used for 118 acres of parks and green space.
Wells' development team currently is in the early stages of negotiating contracts with several builders and retailers.
Trinity Oaks will be zoned to the Goose Creek Independent School District, including De Zavala Elementary and Mann Junior High, which are adjacent to the community.
Houston homebuilders have been turning their attention to the eastern Houston region in recent years amid the oil slump. As job growth has slowed in areas such as the Energy Corridor, it's remained healthy near the Port and the petrochemical boom.
Olivia Pulsinelli is the senior web editor for the Houston Business Journal's award-winning website.