Ikea distribution center near Port of Houston swaps hands
February 22, 2017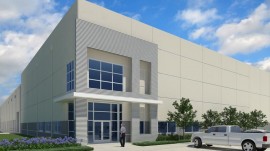 Canada-based Pure Industrial Real Estate Trust (TSX: AAR.UN) has inked a deal to buy the newly constructed industrial buildings Ikea is leasing near the Port of Houston.
The real estate investment trust will pay approximately $63.5 million for the two buildings, which total 996,482 square feet. The deal is expected to close in March.
This is the REIT's third investment in Texas and first in Houston. It also owns property in San Antonio and Austin.
The Class A buildings are 100 percent leased to Ikea Distribution Services Inc., according to the REIT. They serve as Ikea's distribution and e-commerce logistics center for Texas and surrounding markets.
Ikea was expected to finalize its lease last summer, move into one building in the third quarter of 2016 and into the other around the fourth quarter of 2016, the Houston Business Journal previously reported. It was expected to be Ikea's first distribution center on the Gulf Coast. The company operates three centers on the East Coast and two on the West Coast, according to a previous press release.
The buildings are in the 10,987-acre Cedar Port Industrial Park and were built by Houston-based Clay Development and Construction Inc.
About a year ago, Clay bought a nearly 80-acre tract from TGS Cedar Port Partners LP, which bought the massive industrial park in 2014. At the time, it was one of the single-largest land deals in Houston history. Since then, TGS has poured more than $22 million into major infrastructure upgrades, including rail maintenance and an additional drop-and-pull interchange track system that can ship and receive up to 138 car unit trains.
PIRET will acquire the buildings using cash on hand and the REIT's existing operating line. After the deal closes, PIRET plans to secure a mortgage for about half of the purchase price to finance the assets.
by: Olivia Pulsinelli, bizjournals.com