Hydrogen Plant to Break Ground in Baytown
February 23, 2016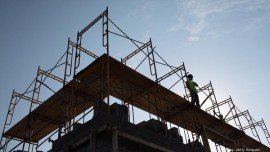 Pennsylvania-based Air Products and Chemicals Inc. will break ground on its $400 million plant in Baytown on Feb. 25.
Air Products' (NYSE: APD) word-scale plant will produce carbon monoxide and 1.2 billion standard cubic feet per day of hydrogen through its steam methane reforming, or SMR, process. The plant will be located at Germany-based Covestro's industrial park.
The plant will supply the hydrogen and carbon monoxide to customers like Covestro through its Gulf Coast pipeline networks. The products are used for petroleum refining and petrochemical production.
Paris-based Technip was contracted to engineer and build the project in January. The two companies have partnered on large-scale hydrogen plants for 20 years.
The plant is expected to begin production in 2018 and is already sold out, according to a media alert.
Air Products' project will join a slew of other petrochemical and liquefied natural gas construction projects that are underway along the Gulf.
Laura Furr, Data Reporter, Houston Business Journal