Houston Developer Scoops Up Land Near Ship Channel
November 10, 2016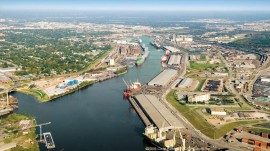 Houston-based Avera Cos. has acquired a 41.7-acre site at the entrance of the Houston Ship Channel for an undisclosed amount.
The property, called HMS 850, is near the San Jacinto Battleground state historic site and both Barbours Cut and Bayport container terminals. It has direct access to Interstate 10 and Independence Parkway, according to Avera.
The site's existing permits create four distinct lease areas: barge terminal and fleeting area, dredge material placement area, potential reclaimed land, and future fuel and terminal distribution facility.
Kirby Inland Marine, a division of Houston-based Kirby Corp. (NYSE: KEX), will be the first tenant at HMS 850, utilizing an area approximately 700 feet by 2,000 feet to provide mooring for 76 barges.
The acquisition will allow Avera to "help accommodate the rapidly increasing need for barge fleeting and deep water terminal space," Avera President and CEO Trey Odom said in a statement. "The existing permits at HMS 850 enable an otherwise ordinary site to function as a critical component of industrial activity at the Houston Ship Channel."
Georgia-based Colonial Pipeline Co. was the seller and was represented by Newmark Grubb Knight Frank Executive Managing Director Doug Nicholson and Senior Managing Director Rob Stillwell.
Avera is a commercial real estate development, construction and investment firm that has more than 1.2 million square feet of developments near the Port of Houston. Earlier this year, the company bought 41.5 acres to develop a three-building industrial project within Bayport North Industrial Park in Pasadena.
Olivia Pulsinelli, Senior Web Editor, Houston Business Journal