Houston-area town hotbed of PE-related activity
February 10, 2017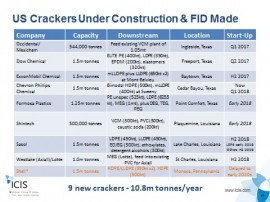 HOUSTON (ICIS)--In Baytown, Texas, the city motto is "where water and oil really do mix", but recent activity there shows a lot of polyethylene (PE) being added to the mixture.
Of new US PE capacity expected to come online this year, 65% will be in or near Baytown, an eastern suburb of Houston. Of the new ethylene capacity scheduled to start up this year or early next year, 55% will be in or near Baytown.
BJ Simon, associate executive director of the town's economic development foundation, said Baytown is ground zero for the PE boom, at least in the Houston area.
"In more ways than one, actually," Simon said.
One of those other ways is in PE packaging space. Most of the new plant capacity being added will make resin pellets for export that must be bagged and put in containers for shipping overseas.
Simon quickly ticked off a little more than 3m sq ft (279,000 sq metres) of new warehouse packaging space in a half-dozen projects – a few still under construction – that have been added in Baytown so that resin pellets can be readied for export.
The reason why Baytown has become such a hotbed of polymer activity is because of its proximity to the Port of Houston, where much of the containerised PE will be shipped overseas.
"All the available area around the port is taken," said a polymer distributor. "The next closest area is Baytown."
City development officials say about 1,000 containers a day with plastics arrive for export through the Port of Houston terminals that are south of Baytown. But getting the containers to the port often requires long wait times on Texas Highway 146, sometimes as long as four hours.
There are also long waits on other highways. Baytown Mayor Stephen DonCarlos said Interstate Highway 10 (I-10) jams up every day in late afternoon.
"Getting out of town on I-10 at 3:30 in the afternoon is just not a happy place," DonCarlos said.
But city officials generally consider the traffic jams as being an occupational hazard that comes with being a hotbed of activity. DonCarlos says there is another hazard of the PE boom, that of becoming anesthetised by the growth statistics.
"It's weird to say that you're becoming numb to the numbers," DonCarlos said, "but that's what has happened because of all this."
by: Lane Kelley, icis.com