Global Plastics Distributor Nabs 200 Acres in Southeast Houston
October 25, 2016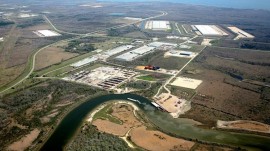 A global plastics distribution company purchased 200 acres in Houston's Cedar Port Distribution Park, the largest master-planned rail- and barge-served industrial park in the nation.
Ravago Americas, a subsidiary of Belgium-based Ravago, bought the land from TGS Cedar Port Partners, according to a release from Houston-based NAI Partners. Ravago Americas will develop a 1.5 million-square-foot distribution and manufacturing campus on the land, according to the release. The campus will be equipped to handle more than 2 billion pounds of plastic resin annually.
"Chambers County and the city of Baytown have been supportive in allowing us the opportunity to develop a premier operation to support the vibrant plastic resins market in the U.S. Gulf Coast," said Sean Williams, vice president of operations for Ravago, in the statement. "The local labor market in Baytown and the surrounding areas is the highest caliber in the country, and we expect to establish a dynamic workforce to provide the agility that our customers and suppliers require."
The campus will be built in the park's Phase 2 portion, which consists of 750 acres with access to State Highway 1409 and State Highway 99, according to the release. That phase of the park has roughly 400 acres remaining. The park's Phase 1 portion is completely contracted for development, according to the release.
NAI Partners' John Ferruzzo, John Simons and Joel Michael represented TGS Cedar Port Partners, and Gray Gilbert with CBRE represented Ravago.
"We are thrilled to have Ravago Americas come to the park, and we have enjoyed their pragmatic approach to support their industry's expansion constraints," said William F. Scott, president of TGC Cedar Port Partners. "The local economy will benefit by having local plastic resin logistics alternatives that increase the local tax base and create local jobs from the expansion in resin production."
Ravago has more than 230 offices in 55 countries globally, according to its website. The company employs 5,200 employees.
In addition to Ravago, The Netherlands-based Ikea will have a presence in the park. The global retailer will lease two of the three 500,000-square-foot rail-served distribution buildings that Clay Development is building in the park.
TGS Cedar Port Partners bought the 10,897-acre park in December 2014 for an undisclosed price. The property is three-fourths the size of Manhattan, and the deal was one of the largest land sales in the history of the Houston area, according to Cushman & Wakefield.
Since then, TGS has poured more than $22 million into major infrastructure upgrades, including rail maintenance and an additional drop-and-pull interchange track system that can ship and receive up to 138 car unit trains, said James Scott, manager of construction and infrastructure at TGS Cedar Port Partners, in a statement.
The NAI Partners release said these infrastructure improvements support "pending transactions, including the Ravago transaction, as well as future development."
http://www.bizjournals.com/houston/news/2016/10/25/global-plastics-distributor-nabs-200-acres-in.html
Cara Smith Reporter for Houston Business Journal