GCCISD accepts Covestro expansion application
December 15, 2017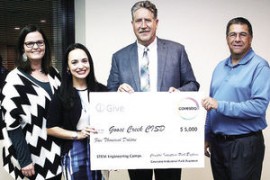 Goose Creek CISD has accepted a Chapter 313 application from Covestro for possible future expansion that could invest millions into the school district.
The board first approved an agreement with Powell & Leon LLP to formally approve the application, then voted in favor of accepting the application, which has to be sent to the Texas Comptroller for approval after Superintendent Randal O'Brien reviews it for completeness.
Attorney Sara Leon said this was essentially an expansion of Covestro's existing plant. Leon added that it could result in $650 million in new investments within Goose Creek CISD boundaries, with a projected total property value at the end of the construction phase of $580 million.
With that could mean 2,000 construction jobs prior to 2024, with most coming in 2021 and 2023, Leon said.
"You have a lot of construction folks that are out of work (due to plant expansion jobs winding down), so this is good for the community," she said.
Leon said at the end of the project, there would be a minimum of 25 permanent jobs, maybe more.
"Covestro AG is investigating future growth options worldwide, which may include an investment at one of its global manufacturing locations," said Jennifer Walsh, Covestro spokeswoman. "If a decision is made for further investment at the Baytown facility of Covestro, there will be a substantial increase in its overall site capacity."
Construction activities may commence in 2020-2021 with a completion date of 2024, Walsh said.
"You put in an application to consider an investment to see any type of tax benefit," she said. "Right now, we are investing in future competitiveness, which is a natural and ongoing process. Right now, this process has an open outcome. So, if we determine that a future expansion is necessary, the expansion may result in an investment that would be equivalent or be something we would be consummate with a world-class production plant."
O'Brien said he was pleased to work with Covestro, which he said has proven to be a partner with the school district.
Covestro in Baytown is the company's largest manufacturing site in North America, and employs about 1,000 employees and 600 contractors.
By Matt Hollis, Baytown Sun
http://baytownsun.com/news/article_13ce3be0-e13c-11e7-810f-df53649fd2cd.html?referer_url=/news/article_13ce3be0-e13c-11e7-810f-df53649fd2cd.html