Enterprise begins construction of 10th fractionator in Mont Belvieu
September 7, 2018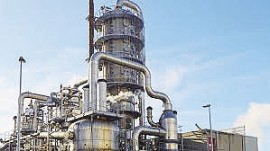 Enterprise Products Partners has announced it has begun construction of a new natural gas liquids fractionator adjacent to its Mont Belvieu complex. The new unit will have a nameplate capacity of 150,000 barrels per day, giving Enterprise 905,000 BPD of fractionation capability in the Mont Belvieu area, and approximately 1.4 million BPD companywide.
Enterprise just completed its ninth fractionator and the 10th is expected to come online in early 2020. The 10th will add 150,000 barrels a day in processing capacity, bringing Enterprise's total Mont Belvieu capacity to 905,000 barrels daily.
"The addition of our newest fractionator will facilitate continued NGL production growth, including from the Permian Basin where NGL volumes are expected to more than double over the next four years," said A.J. Teague, chief executive officer of Enterprise's general partner. "This new fractionator will supply NGL products for the expanding petrochemical industry on the U.S. Gulf Coast as well as growing global demand for NGLs."
Teague added that the Permian Basin and the Eagle Ford account for approximately 70 percent of the domestic growth in NGLs.
Enterprise already exports a lot of butane, propane and more, and is currently building an ethane export terminal along the Houston Ship Channel. Enterprise also recently announced it's planning to build a deepwater crude oil exporting terminal several miles offshore of the ship channel.
http://baytownsun.com/news/article_cdc4d58a-b239-11e8-a809-172453d30005.html