Council expected to approve Bayland Island hotel funding
May 16, 2018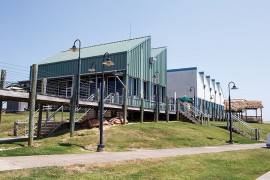 Baytown City Council and the Baytown Municipal Development District are expected to approve agreements that will help make the Bayland Island hotel and conference center a reality.
First, at the MDD, members will approve an interlocal agreement to fund the project for $17.5 million. These funds will come from MDD sales taxes. The MDD meeting is at 4 p.m. at City Hall, 2401 Market Street.
Following the MDD meeting is a special council meeting at 4:30 p.m.
"This is the day that the whole thing takes off," said City Manager Rick Davis. "This is extremely good news."
Representatives from builders Garfield Public will provide a report as part of a Pre-Development Services Agreement made July 13. The report will cover the planning, design, construction, and commissioning of a full-service, nationally branded hotel. It will also include information on meeting spaces as well as parking.
Garfield also had an architect, BOKA Powell, prepare a conceptual design package for the hotel, which includes a fitness center, a business center, a sundry shop, a coffee stand, a bar and lounge, and a restaurant. Also, a part of the package is about 20,000 square feet of meeting space, 200 guest rooms and suites, and a nationally branded, full-service hotel. The hotel is slated to be seven stories with six levels of guest rooms. They also anticipate future expansion of about 100 rooms.
In addition, the report is supposed to have project pricing and a construction schedule.
The hotel and the conference center will be linked so guests can walk in between both amenities. The hotel will measure 131,000 square feet while the conference center is just less than 29,000 square feet.
After the presentation of the report, council will consider approving the MDD agreement for $17.5 million. The final step is council approving a Master Development Agreement with Garfield and Preston Hollow Capital and Provident Group - Baytown Properties.
"These spell out the city's participation in the project," Davis said.
Davis said there is a $4.5 million cash contribution the city is making to the project.
"The $17.5 million and the $4.5 million gets us to $21.1 million, which is the city's total contribution to the hotel/conference center," Davis said. "This is a cash contribution, but we are not financing the whole thing."
Davis said the city's contribution was supposed to be $22.6 million.
"But in the process of obtaining tax-exempt status for the facility, our contribution was lowered to $21.1 million," Davis said. "We took a million and a half off of it, pretty good deal."
The conference center, for now, is being referred to as the Baytown Conference Center. Once a hotel brand is settled on, then that will be the official name of the hotel, according to Davis.
The city had originally planned to open the hotel and conference center in December 2019.
"We've had some complications and had to hire out on the finance side of it," Davis said. "We do not want to sacrifice quality for speed. This is going to be a quality facility and we want to finish it as expeditiously as possible. Certainly, the design and build process helps us with that. But I sure want to have the Chamber Gala there in 2020. But, that is a tough schedule to meet right now. So, it could be as late as spring of 2020."
The hotel will be a self-sustaining facility once it opens. City officials expect it to generate $500,000 in hotel occupancy tax per year. However, it will likely take the city 15 to 20 years to pay off the conference center. The city will always maintain ownership over it, although they will not operate it.
By Matt Hollis, Baytown Sun
http://baytownsun.com/news/article_7db838a2-58ac-11e8-b215-cf1612641762.html