Chevron Phillips to Expand Capacity at Baytown Plant
March 29, 2016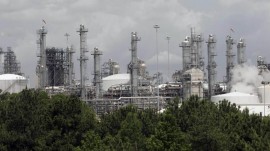 Chevron Phillips Chemical Company LP has decided to further expand production capacity at its Cedar Bayou plant in Baytown.
The expansion will increase the low-viscosity polyalphaolefins capacity by 10,000 metric tons per year, or about 20 percent. Construction will begin in April, and completion and startup is expected by mid-2017. The expansion will support up to 135 construction and engineering jobs.
Chevron Phillips' recent expansion of normal alpha olefins capacity at the plant will provide feedstock for the latest expansion.
The expansion is in response to increasing demand for high-performance lubricants in automotive and industrial applications, such as engine oils, gear oils and greases.
"This additional capacity enables us to expand with our customer base to meet the future requirements of the industry," Miles Oberton, global PAO business manager for Chevron Phillips, said in a statement.
The company's Cedar Bayou plant has seen several projects in recent years.
Chevron Phillips kicked off the first part of its U.S. Gulf Coast Petrochemicals Project, a $6 billion investment, with an April 2014 groundbreaking for its new ethane cracker facility at the plant.
The Woodlands-based chemical company is a joint venture between San Ramon, California-based Chevron Corp. (NYSE: CVX) and Houston's Phillips 66 (NYSE: PSX). Also in 2014, Chevron Phillips completed the world's largest on-purpose 1-hexene plant at the company's Cedar Bayou Chemical Complex in Baytown.
Olivia Pulsinelli, Senior web editor, Houston Business Journal