Chevron finishes ethane cracker construction
December 20, 2017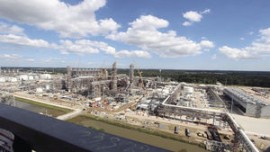 Chevron Phillips completed the construction of its Cedar Bayou ethane cracker, something the company on Tuesday called a "major milestone" toward the project's total completion.
The unit will now undergo a series of commissioning activities, system checks and final certifications before it begins operation.
Once operational, it is expected to produce at least 1.5 million metric tons of products annually, the company said.
"With the mechanical completion of Cedar Bayou's ethane cracker, we are now on the cusp of completing the most transformative project in our company's history, our U.S. Gulf Coast petrochemical project," said Mark Lashier, president and chief executive officer of Chevron Phillips Chemical. "I want to thank our employees, contractors, and the community of Baytown for helping make this milestone possible."
At peak construction, approximately 5,000 workers were employed on the project.
Heather Betancourth, Chevron Phillips Chemical spokeswoman and newly sworn-in Baytown councilwoman, said that a majority of the workforce is temporary craft workers constructing the new unit. She added that there are approximately 200 new permanent jobs created thanks to the project.
The cooperation they experienced with the City of Baytown and Harris County was instrumental in the success of this project, Betancourth said.
Betancourth also thanked Baytonians for dealing with the construction process.
"I think the biggest thank you goes to the citizens of Baytown who tolerated the day-to-day inconveniences of a project this size," she said. "Most people understand the benefits this project brings – jobs and increased revenue for the city – far outweighs the inconveniences."
The new ethane cracker will produce valuable product for the company's ethylene business and feedstock for its ethylene derivatives businesses.
The polyethylene fleet now includes the two new units at Old Ocean, which were also part of the U.S. Gulf Coast petrochemical project, the company said. Those units started up in September of 2017, and produce a wide variety of Marlex polyethylene resins.
In addition to the cracker and PE units, the company purchased nearly 3,000 newly built rail cars and constructed a storage-in-transition facility to ship polyethylene via rail to its customers domestically and through ports, according to Chevron.
While Hurricane Harvey was a setback, Betancourth said the company is planning to start up in the first half of 2018.
The Texas Commission on Environmental Quality granted the air permits for the ethane cracker and polyethylene units in 2013, and the Environmental Protection Agency granted the company a greenhouse gas permit, the company said.
The project broke ground in April 2014.
http://baytownsun.com/news/article_c6af643a-e521-11e7-8743-57eb7813edfd.html